MinesALargeOne.co.uk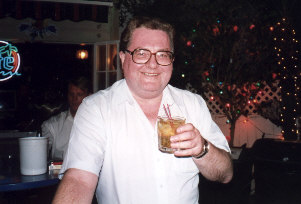 A tribute to Edward Massie Brown 17/8/1943 - 17/10/2007
A great Dad, Grandad, step-dad, brother, partner, ex-husband, drinking buddy, domino player and businessman.
Lived life to the full and did it his way.
A brief recap of Ed (Dad) through the ages
Click on the images for a larger version. If anyone has some images they think should be up here, pass them on and I'll put them up. Mail them to photos@MinesALargeOne.co.uk - Neil

First Passport Photo

with niece Fiona at Ed and Lorna's wedding

Proctor and Gamble Dinner, 1969

With Lorna and Neil at the Tyne Bridge, 1972

picnic with niece and newphew Fiona and Moray, and Neil circa 1973

With Neil and Graham, 1974

Newcastle crowd

Ibiza with Leish, Rena, Graham, Neil and Jane taking the photo circa 1982

TSB Edinburgh, circa 1987

with Alica, Jane and Rena circa 1992

in Los Angeles, 1999

with the first winner of the Edward
Massie Brown Classic at Perth, 2004

with Leish at Jane's Wedding, 2005

with Graham and Neil, Christmas 2005

with Katie and Gregor, Dec 2006

with Eilidh, Mhairi and Rhona, June 2007

with Margaret and mussels in Brussels, Aug 2007
Tributes
Hopefully I'll set up a place where you can leave tributes to Dad. For the moment, just mail them to: comments@MinesALargeOne.co.uk and I'll post them here.
From Neil:

Dad, you were a great Dad and Grandad. We'll miss you. Lots of Love. Neil, Gillian and the Girls.

From Peter Guthrie:

I enjoyed Ed's company for many years going for a pint and talk about the horses shares football and the world in general he was allways ready to help if I had a problem and gave me lots of good advice. Brilliant company and good fun the world allways seemed a better place after an hour in Ed's company I shall miss a great friend.

Moray and Fiona

Dear Neil, our memories of our Uncle Ed seem to be always about going somewhere in one car or another, eating and having fun! We particularly remember how frustrated [fuming actually] Ed was when Granny took you all by the "scenic" route to the Isle of Lewis adding miles and miles to the journey and everyone being grumpy and tired out when you finally made it to our house in Lewis.! We also have such happy memories of coming down to stay with Uncle Ed and Auntie Lorna in Newcastle. It was the first time we had ever travelled by ourselves on the train, was a great adventure and we had a wonderful time. Your cousins Moray and Fiona
Racing
The Edward Massie Brown Classic
Some other connoisseurs.